WARNING: SOME SONGS MAY CONTAIN SWEARING



12 songs for Mukuro/Kyoko of Katekyo Hitman Reborn!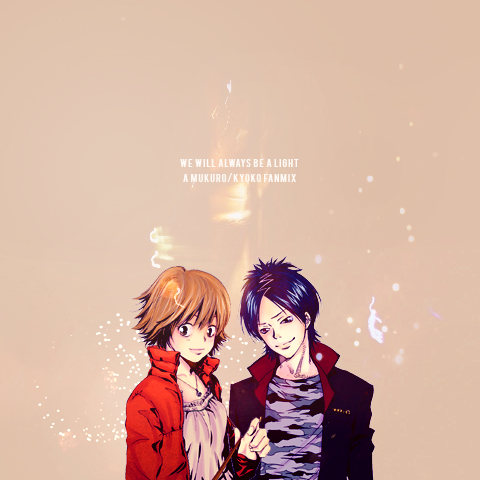 WE WILL ALWAYS BE A LIGHT ♪ a 6995 fst

♪CHASING PIRATES NORAH JONES
In your message you said, you were goin' to bed,
But I'm not done with the night.
So I stayed up and read,
But your words in my head,
Got me mixed up so I turned out the light.


You can't help but notice the differences
between you and her. Ever innocent and full of
life, she is like the morning sun and you are
the quarter moon.




♪AGELESS BEAUTY STARS
Oceans won't freeze
So loosen your heart
Underestimated
Undefeated in this love
We will always be a light


You want him to understand you. You
want him to realize that you are different
and that you can handle it, handle this.
He's walking ahead of you and you can't help
but reach for his fingers.




♪THESE BONES DASHBOARD CONFESSIONAL
Lay my bones
At the feet of the ministry
I need the guilt and the company
I need the chance to be judged
And then long forgotten

So lay with me
I could use the company
You could help me ease

These bones
Are like maps and keys
Where they took their hits
And they felt those teeth


Lately, or maybe it's always been this way,
but you are watching her when she sleeps. Her bedroom
is what you would expect of someone her age - pink, frills,
and magazine posters. You stand still as she stirs; her eyes
blink open and meet your own. She says nothing, but pushes
herself towards the edge of the bed and gives you a gentle smile.
You lay next to her, breathe in her floral sent, and close
your own eyes. Maybe...she could help ease this loneliness.




♪GLITTERING CLOUDS IMOGEN HEAP
I'm not always like this
It's something, i become
A terrible weakness
In my nature, in my blood
Save me, oh save me, save me from myself
Before I hurt somebody else again


At times, you think she is an idiot. Or a
bit naive. You are monster. You walked through
hell and back and kill more men than you care
to remember. And here she is, sitting across from
you, wondering what your favorite ice cream flavor is.
Instead you reach across the small table and run
your fingers through her hair. Her face turns pink
and you return with a sad smile.




♪HYSTERIC YEAH YEAH YEAHS
The cinders the cinders
They light the path
Of these strange steps
Take us back take us back

Flow sweetly hang heavy
You suddenly complete me


It wasn't like you meant to fall in
love with him. Not really. It just sort of
happened through a long line of odd and somewhat
awkward encounters. But he leaves you always
wants more and you're okay with that.



♪FOLDING CHAIR REGINA SPEKTOR
Come and open up your folding chair next to me
My feet are buried in the sand and there's a breeze
There's a shadow
You can't see my eyes
And the sea is just a wetter version of the skies


You will wait for him. You will always
wait for him. To stop running away and to
come home. Its getting lonely, and the nights
are getting longer, and the wind is picking
up. You dig you feet back in the sand. Maybe
tomorrow. Just maybe.



♪HEREGOESNOTHIN NEVERSHOUTNEVER!
It's so hard to pretend

Like I know everything
I don't know anything
I wanted you to see
That I got nothin

I'll sit back and I'll watch the show
I'll lay awake and I'll watch the stars as they collide


It's like the world melts away with her.
It's your small indulgence. She makes you forget
about everything expect what's in front of you.




♪EVERYTHING I ASK FOR THE MAINE
She takes her time with the little things
Love notes reminding me
She wears red when she's feeling hot
I have her but that's all I've got
She looks best without her clothes
I know it's wrong but that's THE WAY IT GOES

I don't know what she sees in me
But I'm happy that she's happy now
That she's with me
And I'm freakin' out
Because I'm just so lucky


Years later, you are both older now. And
you have told her about yourself. After years of
subtle prodding on her part. The murder, the evil
deeds, and the mafia. She gives you a sad smile and
you close your eyes, waiting for her to leave. But
you feel her lips against yours and smile.




♪READ MY MIND THE KILLERS
I never really gave up on
Breakin' out of this two-star town
I got the green light
I got a little fight
I'm gonna turn this thing around


He always speaks of other places -
Italy, Egypt, and the Congo. So many far
away places. And you wish he would just shut
up and whisk you away already! If you can
handle him, you figure, you can handle
just about anything.



♪THAT'S OKAY THE HUSH SOUND
You are broken and callow
Cautious and safe
You are a boundless and beauty
With fright in your face
Until someone loves you,
I'll keep you safe
But like them, I will give you away


These walls he's put up are made
of stone and marble - invincible things
that you are unable to break through.
You're scared for him, that he will never
really be able to fully love someone. Love
you. And if the time comes, when he wants to
leave you, you...you will let him go.



♪A STORY TO TELL YOUR FRIENDS EVERY AVENUE
It was the type of feeling that can't be explained
The way she moved her lips drove me insane
Now I'm left here in the wake of something more.
She made it hard to leave as she stood by the door
In a v-neck T-shirt and nothing more than
A single tear rolling down her cheek, whoa

Don't go away again,
I want to be more than a phone call at 4am.
Seems like every time you come back home
It's just to steal my heart and leave.


It's the third time she's caught you
leaving. The sun has yet to rise and the sheets
are a tangled mess on the floor. She says
nothing to you, but you always were so gifted
with reading people.



BONUS
♪BLEEDING LOVE ("MELLOW DISCO" MIX) LEONA LEWIS



click the heart to download


♥ ♥ I finally finished it! Requested by the ever so lovely
valerya_deidara, like a million years ago. Here you go, I hope you enjoy it!

DON'T FORGET TO JOIN IN ON THE FST MEME; srsly. I really want to do this - TO THE EXTREME. ♥ ♥ ♥ (Still accepting comments!) I think I am going to set an end date - June 1st! Please get your comments in by then!

WORKING ON: Iemetsu/Nana, Mukuro/Kyoko, Kyoko & Haru, Mukuro/Tsuna, Hibari/Tsuna, Tsuna/Chrome, Yamamoto/Gokudera, Lal/Collonello, Dino/Squalo, Squalo, Lussaria, Mammon, Belphegor, Belphegor/Gokudera, Hibari vs. Mukuro, Dino, Byakuran/Tsuna?, Reborn/Tsuna, Ryohei/Mukuro, Hibari/Chrome, Gokudera/Tsuna, Millifiore, Varia, Dino/Tsuna, Hibari/I-Pin, Bianchi/Reborn, The Kids, Uni, Giotto, Byakuran/Irie, Yamamoto/Haru, Yamamoto/Squalo, Yamamoto & Tsuna & Gokudera, TYL Guardians, and Regular Guardians.

I think that's everything I've been asked? If not, please bombard me - I'll basically take anything xD. And I probably spelt some names wrong. OTL

REWIND - For those of you who were out the door:
BULLET PROOF - Dino/Bianchi FST PT1
MUST ENJOY THE SUN, MUST ENJOY THE SEA - A Dino/Bianchi FST PT2
VENI VIDI VICI - A Xanxus FST

For complete list of all 25+ fsts, and to see what else I'm cooking up, click here

[x] WATCH?
[x] AFFILIATE?

x-posted:
fanmix,
hitman_reborn,
mukuro_kyoko
fansound, &
vongola
Current Music: Money Honey - Lady Gaga